Q & A Page
Answers to good questions will be posted here to help everyone
Send questions to
Email to w1ghz@arrl.net
If I can't answer, I'll try and find someone who can!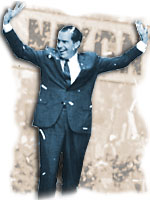 Let me make this perfectly clear
---
Q
Where can I find a transition from coax to waveguide?
A
Unless you are lucky and find a surplus one, you probably must build one. Dimensions are rather critical and interact with each other, but a number of combinations will work. Here are two:
10 GHz SMA to WR-90 Transition (KH6CP), QEX, November 1995, p. 24.
COAX-WAVEGUIDE TRANSITION by W1RIL.

I haven't tried it, but SSB Electronics one for sale made by Procom.
---
Q
How can I tune waveguides and feedhorns?
A
With a ball bearing and a magnet. Put the ball bearing inside the guide and the magnet on the outside, then move the bearing by sliding the magnet around. In rectangular waveguide, stay near the centerline of the wide dimension. When you find minimum VSWR (it won't be a perfect match since you can't easily vary the size of the bearing), mark the location and put a tuning screw there. For X-band, a 3/32" diameter BB works well; bicycle shops are a good source for small bearings.

The ball bearing trick works well for reasonable mismatches, say a VSWR less than 3:1. If the VSWR is much higher, there is probably something seriously wrong and you should try to figure out what it is.

Nearly any impedance can be tuned with 3 screws, spaced roughly 1/8 guide wavelength. However, the loss of 3 tuning screws can be higher than the loss caused by a small mismatch: a 2:1 VSWR results in about 0.5 dB loss.
---
Q
I found a small black surplus horn with what looks like X-Band waveguide and an N-connector, marked "8500-9600 MC". Is it useful at 10 GHz?
A
Yes, and there are lots of these horns around at low prices. One I have here is also marked "AT-68/UP". It had a VSWR of about 1.8 at 10.368 GHz, so I tuned it as described above. With an aluminum 6-32 screw about 0.79 inches from the outside of the closed end, on the centerline of the waveguide, it was easy to tune for good VSWR at 10.368 GHz. At this setting, the VSWR is <1.1 from 9.6 to 10.5 GHz.

These horns make fair feedhorns for a dish with f/D of about 0.5 (QEX, November 1994); at least good enough to get on the air and get started.
---
Q
My viewer doesn't know what to do with PostScript files. What can I do?
A
The easiest way to print PostScriptTM files is with a PostScript compatible laser printer, but there is also PC software to view and print PostScript.

If the PostScript files are maps generated by AZ_PROJ, a few special hints might be needed.
Q
Why can't I get to the PostScript link?
A
Because I had the link wrong! Try this .
---
Q
I am preparing to use a KB2AH polarizer feed on a .38 dish for 1296 EME. I know the focal point of the dish is 45" but I am not sure how far inside the mouth of the horn to position the focal point.

Does this come down to simple geometry i.e. a triangle whose base is the dish diameter and whose isosceles sides just touch the diameter of the horn- the vertex then is phase center? This I believe was the comment of another EMEr. I would think it is somewhat more complex depending upon the desired edge illumination.
A
Good question, but not easy to answer, since it is hard to measure and hard to calculate, but we can work around that.

For a conventional dish that isn't too battered, the focal point is most likely very near the axial line through the center of the dish. Then the problem is to find the right point along this line, which I call the focal distance. This distance is easily calculated for the dish using HDL_ANT, but that doesn't help us find the phase center of the feed.

As I've described in QEX (10/94), the focal distance is the most critical dimension for feeding a dish, especially a deep dish like 0.38 f/D. At this f/D, there will be a small gain degradation (~1 dB) with a quarter-wavelength of focal distance error, increasing rapidly to nulls with the feed perhaps 1.5 wavelengths from the optimum focal distance.

My measurements on adjustable Chaparral feeds at 10 GHz suggest that the phase center is controlled by the outer rings, not the central horn. Some of the C-Band ones have adjustable rings -- my installer friend tells me that the instructions say to adjust the rings for best picture. I believe what they are doing is optimizing to the phase center of the feed to the focal point of the dish.

I would expect that other feeds with choke rings, like the KB2AH feedhorn and the popular VE4MA feeds, would also have the phase center adjustable by ring position. Barry's data suggests that the illumination pattern is also affected by ring position, so ideally both the horn position and the ring position should be optimized.

Since an EME system should be able to easily measure sun noise, that is the easiest way to adjust the feed. Start with your estimated 45" distance, take a reading, then the move feed in and out a quarter-wavelength at a time and keep taking sun noise readings. You will soon be able to draw a curve which has a definite peak, and you can fine-tune around that peak as much as you like. You could also change the ring position and draw a new curve, until you are satifisfied that you have the optimum feed position. By following this procedure, you are optimizing your dish as it is today, rather than for calculated dimensions.

Maximizing sun noise gives the optimum adjustment for G/T, which is probably the best point for EME. The gain peak should be slighlty farther away from the dish, but the difference in gain is small. (The reason is that the gain peaks around -10 dB edge illumination, while the best G/T is around -14 dB edge illumination).

I'd suggest reading VE4MA's papers in various Microwave Update proceedings. If you don't have these books, you should order them from ARRL.

Also read W2IMU's section in the ARRL UHF/Microwave book. Dick knew more about antennas than I ever will.

Finally, this is discussed in detail in the W1GHZ Microwave Antenna Book - Online
---
Q
Where can I get copies of QEX articles?
A
Back issues of QEX are available from the ARRL. They also offer a CD with all issues of QEX through 1999.
---
Q
How can folks not using MicrosoftTM operating systems do grid square calculations? Is the source code to the BD program available?
A
Here is the Source file BD.PAS
---
Q
My transceiver puts out too much power for my transverter. How can I reduce the power?
A
See "Building VHF Power Attenuators" (N1BWT), QEX, April 1994. View Text or
Download QEXPAD.ZIP VHF power attenuator design program by N1BWT
---
Q
What polarization is used on 10 GHz?
A
In the eastern USA, we use horizontal polarization for narrowband work (SSB and CW at 10368.1 MHz) and vertical polarization for wideband FM (10250 MHz). In rectangular waveguide, it looks like this:

---
Q
I'm building a new preamp with this hot new PHEMT I won as a door prize at the VHF Conference. What can I use for a bias circuit?
A
The WB5LUA active bias circuit does a great job, if you adjust the resistor values for each device type.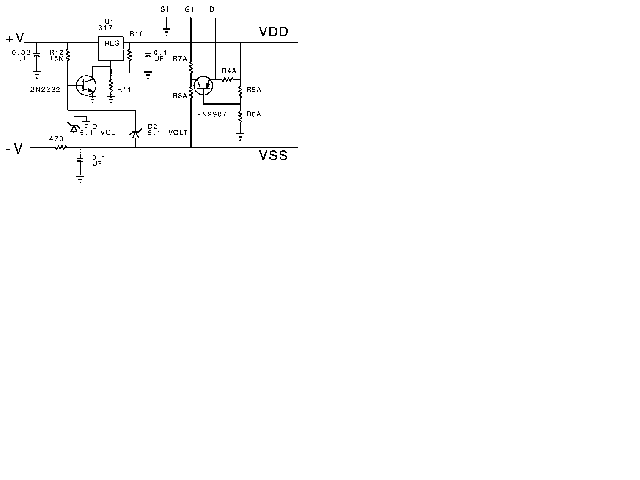 Here's how
---
Q
I have a 10 GHz PLO oscillator brick made by Micromega. Is it different than other models?
A
Yes, they use a different multiplication factor. Click here for details.